Mastering the Digital Marketing Landscape: Insights from Madyson Gussie, Head of Digital Marketing at Bertrand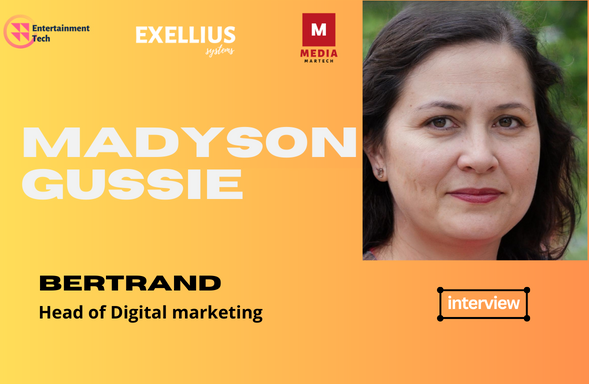 Hello and welcome to our podcast. Today, we have Madyson Gussie, the Head of Digital Marketing at Bertrand from Media Martech and entertainment-tech.online. Madyson, thank you for joining us today.
Madyson: Thank you for having me. I'm excited to be here.
James: Can you tell us about your role as the Head of Digital Marketing at Bertrand from Media Martech and entertainment-tech.online?
Madyson: Sure. As the Head of Digital Marketing, I oversee all of our online marketing strategies and initiatives. This includes things like social media marketing, email marketing, content marketing, and search engine optimization. My team and I are responsible for driving traffic to our website and converting that traffic into leads and customers.
James: How has the digital marketing landscape changed over the past few years, and how has your team adapted to those changes?
Madyson: The digital marketing landscape is constantly evolving, and we have to adapt to those changes to stay ahead of the competition. One of the biggest changes we've seen in recent years is the rise of mobile devices. More and more people are using their smartphones and tablets to access the internet, so we've had to make sure our website is optimized for mobile devices.
Another big change has been the increased importance of social media. Platforms like Facebook, Twitter, and Instagram have become incredibly powerful marketing tools, and we've had to learn how to use them effectively to reach our target audience.
James: How do you measure the success of your digital marketing campaigns, and what metrics do you focus on?
Madyson: We use a variety of metrics to measure the success of our campaigns. The most important metric for us is conversions. We want to know how many people are taking action on our website, whether that's filling out a form, downloading a white paper, or making a purchase.
We also look at other metrics like website traffic, engagement on social media, and email open and click-through rates. These metrics help us understand how well our campaigns are performing and where we need to make adjustments.
James: What advice would you give to businesses looking to improve their digital marketing efforts?
Madyson: My advice would be to start with your website. Your website is the foundation of your online presence, and it needs to be optimized for both search engines and users. Make sure your website is mobile-friendly, loads quickly, and has clear calls-to-action.
Next, focus on your social media presence. Choose the platforms that are most relevant to your audience and create a content strategy that engages and educates them.
Finally, don't forget about email marketing. Email is still one of the most effective marketing channels, so make sure you're building your list and sending relevant, valuable content to your subscribers.
James: What trends do you see emerging in the digital marketing space, and how is your team preparing for them?
Madyson: One trend that we're seeing is the rise of artificial intelligence and machine learning. These technologies are enabling marketers to create more personalized and targeted campaigns, and we're starting to see some really exciting results.
Another trend is the increasing importance of video content. Video has become incredibly popular on social media, and we're seeing more and more businesses using video to engage their audiences.
To prepare for these trends, we're investing in new tools and technologies that enable us to create more personalized and engaging campaigns. We're also expanding our video capabilities and experimenting with new formats and channels.